Like many of you, I isolated myself at home for myself and my community. During this time alone I had moments to really think about everything and appreciate what I have. One of them is my handbag collection. From a young age I started to really deal with fashion. My grandmother had always told me that quality is more important than quantity, and I took that to heart, especially with my personal style. When I turned sixteen, I decided to pool my entire birthday and Christmas bonuses to buy a (very) used Louis Vuitton Speedy 30 on eBay. That was the spark of my obsession, and from there I jumped in immediately. Since then I've been working on the show as a reseller, stylist and branded handbag specialist for a large luxury house.
In all these different periods of my life I also collected for myself. Learning what worked for me, pushing the boundaries of my own taste and ultimately figuring out how to express myself through personal style that has become a big part of my identity. I owned MANY bags, but I also let go of more than I kept. I even have the rule that I can only buy bags with the money I earn from selling bags. I mostly stuck to it and it helped me differentiate the things I really want from the things I really admire. A lot has happened this year, and as we scour the bad and work together to overcome it, I wanted to try to think about some of the positive aspects. After a decade of collecting and loving handbags, here is my collection:
The workhorses: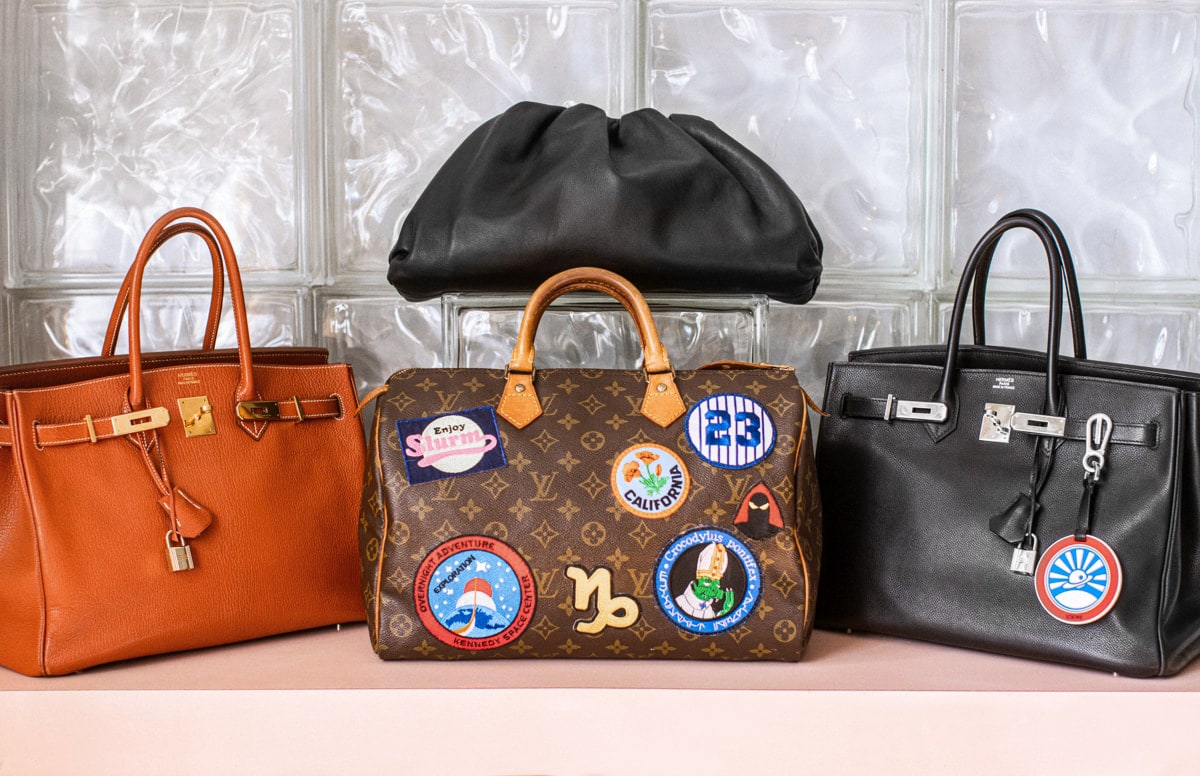 Hermes Birkin 35 in Chevre Brique
Hermes Birkin 35 in Evergrain Noir
Personalized Louis Vuitton Speedy 35
Black calfskin bottega bag
My daily load tends to be bigger – I like to carry my Pocketo Planner with the leather organizer and a small umbrella, and on some days I even have to carry my laptop or camera. I live in Brooklyn, NY and go for walks in most places. That's why I need hard bags that can keep up with my lifestyle. These bags never let me down, and I can rest assured that they not only keep my things safe and in order, but also improve my outfits, even on my roughest days.
The Light Load Ladies: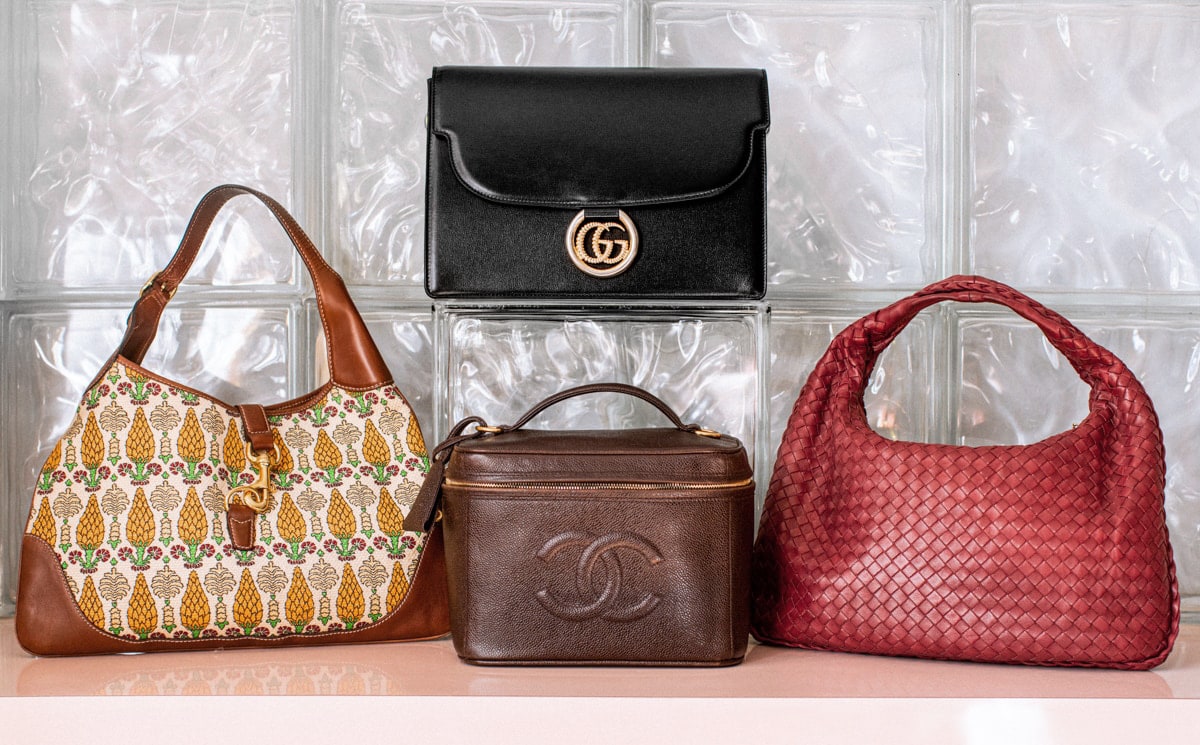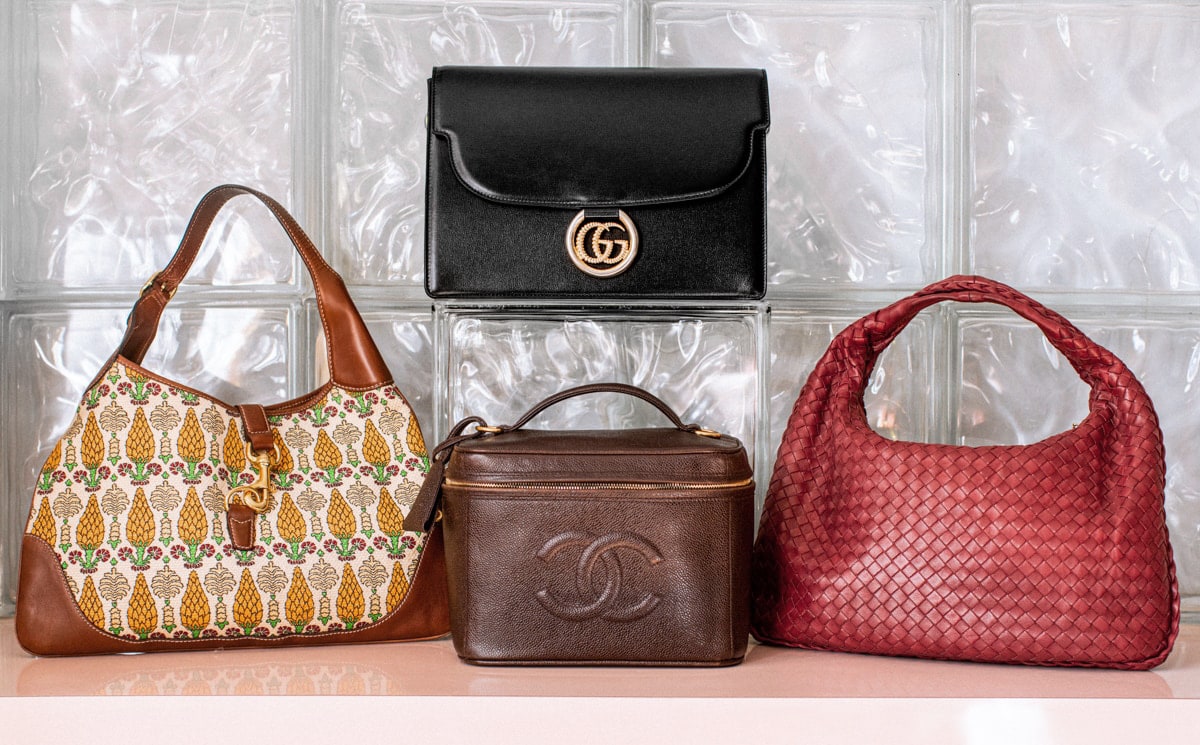 Gucci GG ring bag in black calfskin
Chanel Vanity in Brown Caviar
Bottega Venetta Hobo in Burgundy Lambskin
Gucci Jackie in pineapple canvas
Of course I tend to have large bags with an upper handle, but these are usually heavy and not very practical. My light cargo bags keep a certain balance in my collection as I keep it rotating with my workhorses in a strong rotation to try to keep my bags AND my shoulders. They are the ones I pick up when I'm out to do errands or do something that requires free hands because everyone can be carried on my body or on my shoulder.
The Good Time Gals: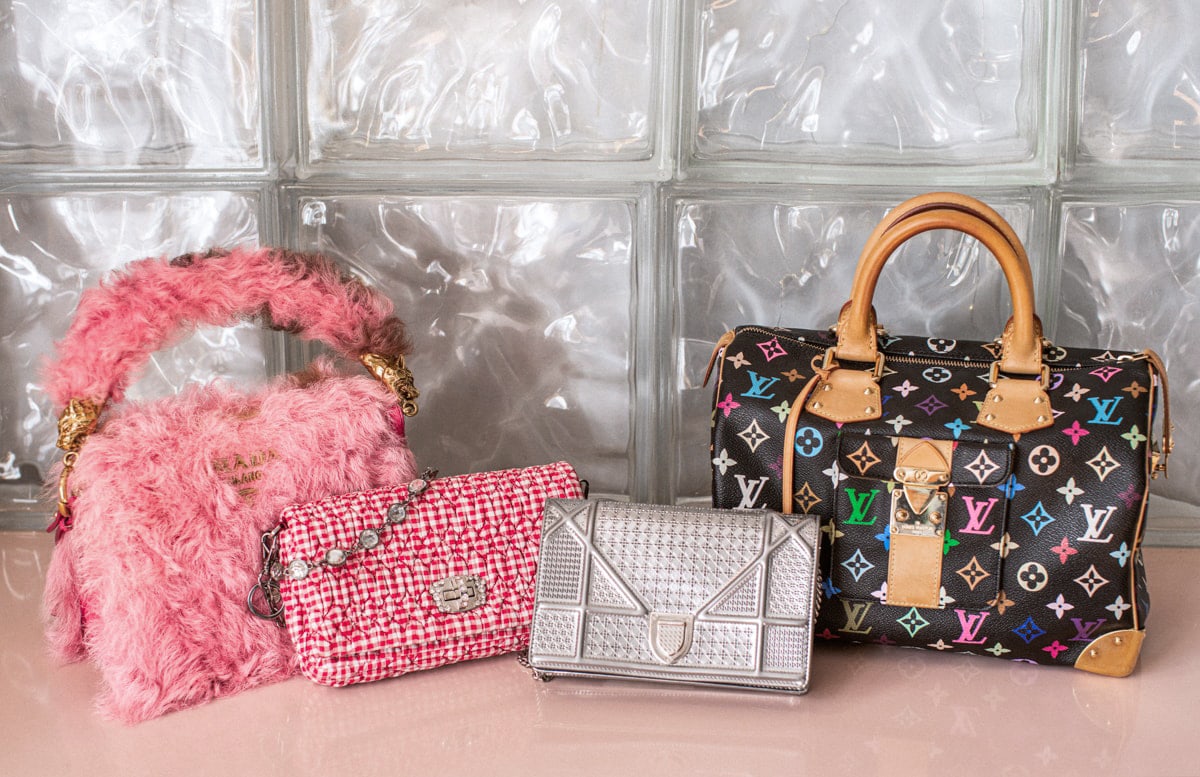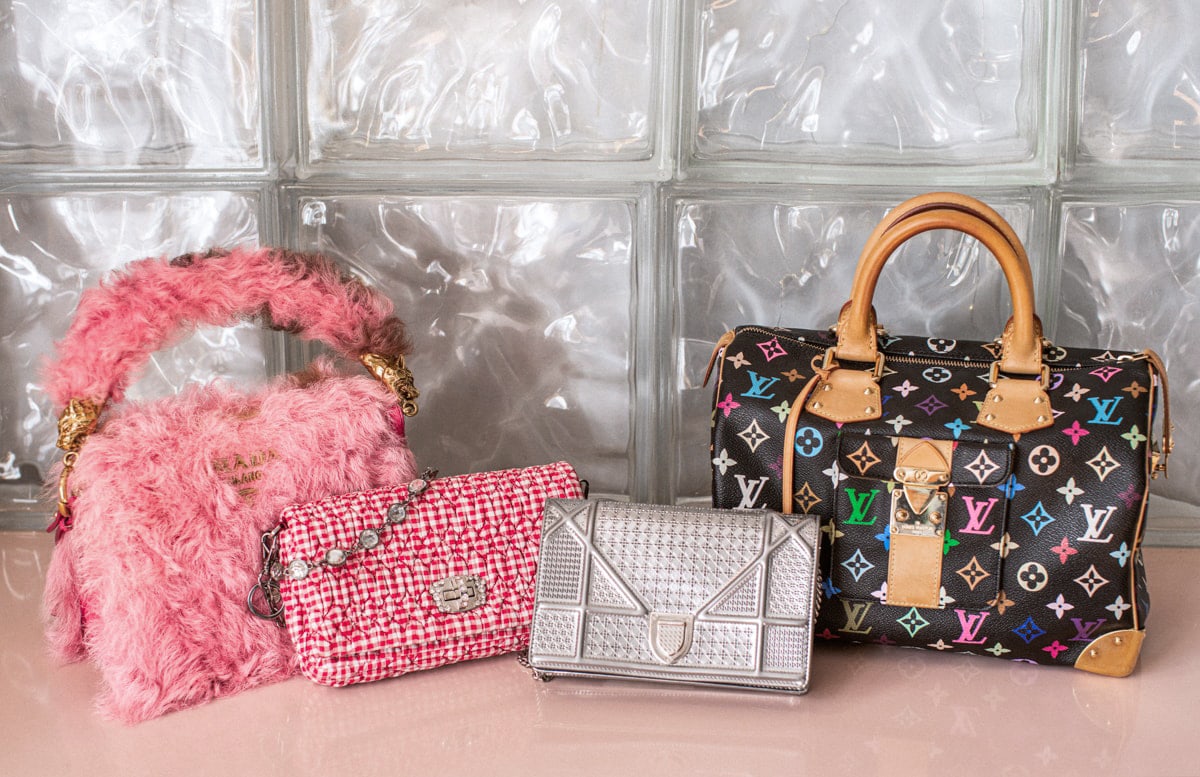 LV Speedy Multicolore 30
Prada frame bag made of pink lambskin
Miu Miu crystal bag from Matelassé-Gingham
Dior Diorama WOC in silver microcannage
These are some of my favorite styling bags and perhaps some of my "riskiest" purchases. Most of these bags are fun twists on classic silhouettes that I like to carry when I feel playful or need a splash of color. Although they are pretty, they are not the most practical bags and some of the materials require that they are always kept in mind.
The less than perfect loved ones: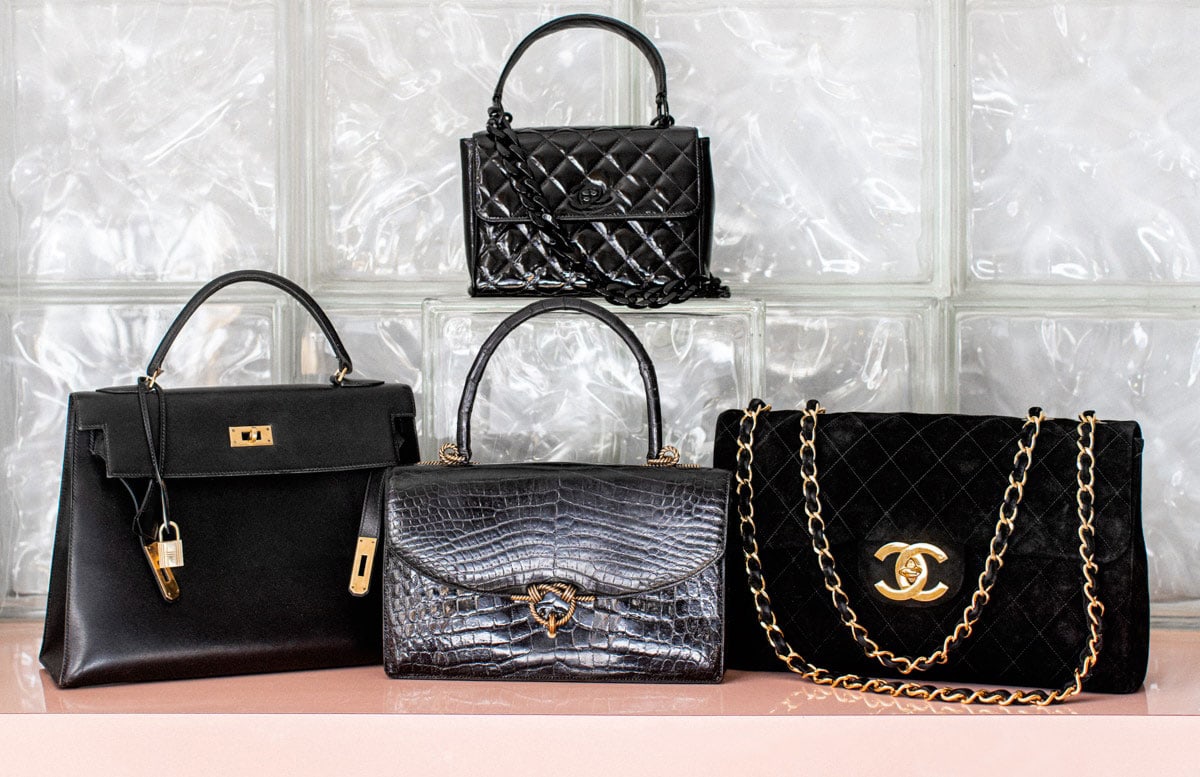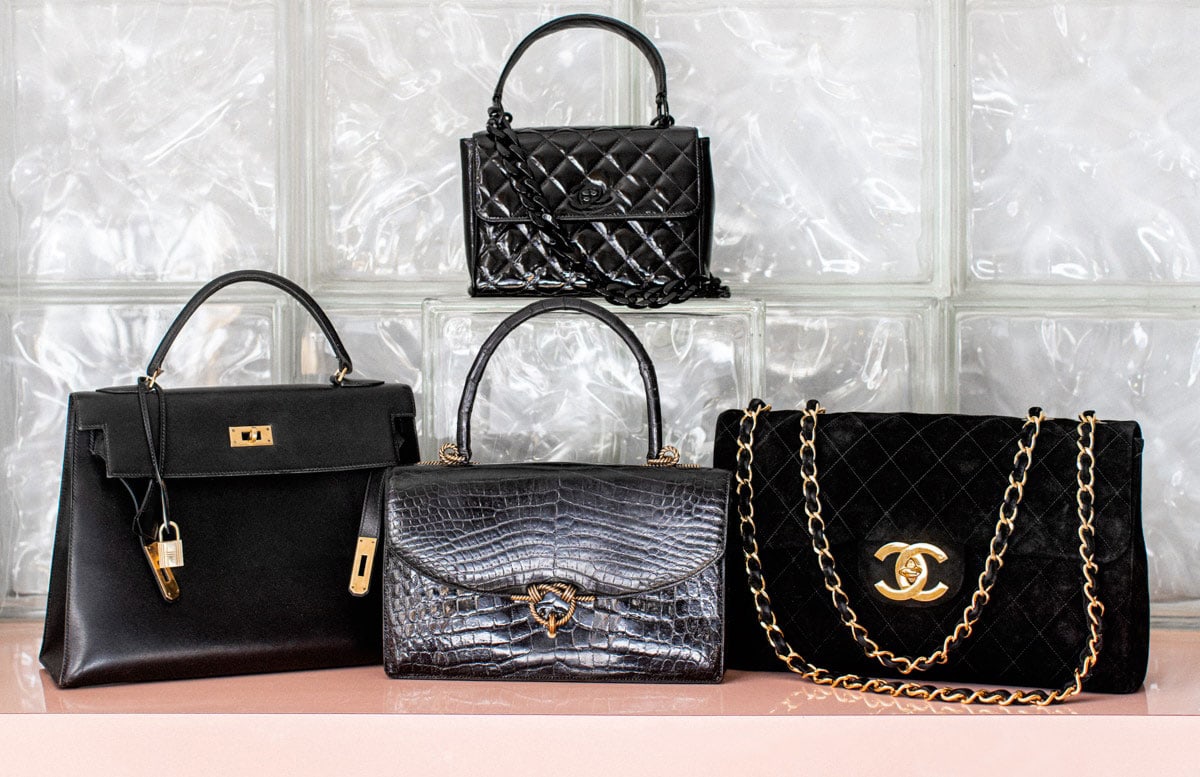 Hermes Cordeliere Bag in Crocodile Noir
Hermes Kelly 32 in Noir Box
Chanel Maxi Flap made of Suede
Chanel Top Handle in Patent So Black
Many of them were project bags that I had restored myself or had started and completed by a specialist. Although they are far from perfect, they are still one of my favorite bags. Since I have worked on everyone to a certain extent, they have a very special place in my heart. They require care when carried and that doesn't fit my daily life, but I'm glad to have these bags in my collection anyway. They are unique classics that you just don't see very often, which is why I think they are worth keeping.
Now that you know where my collection is currently here, I've learned a few things that I wanted to share with you on your way.
CARE
Caring for your bags is key to protecting your investment, and there are many simple things that are often overlooked. Storage is definitely one of those things. I currently have my bags on display, but now and then I put them on my back to relieve them. I keep them filled with acid-free tissue paper and out of the reach of the sun to keep them in good shape when "retired". I personally don't store them in dust bags or boxes because it can get damp where I live and I want to avoid mold. If you want to keep them covered, make sure the fabric is breathable. If the bag will be out of use for a long period of time, you should wrap hanging parts with handkerchiefs to avoid dents and scratches.
A healthy rotation is also great because it does not cause your pockets to take up too much stress and wear out, especially under heavy loads. This is also accompanied by a realistic representation of your needs and the care that you can or want to put in your pocket. There are certain materials that I know I can't care for, calf hair, snakeskin, and most lambskins. The more you deal with leather, the more you learn what works for you. My personal favorite is chèvre or goat leather. It is often quite light and has a slight sheen, fine grain and a high tolerance for abuse (apart from corner wear). Last but not least, moistening your bag is everything! If you adequately moisturize your bag, scratches are reduced, ripples and tears are avoided, and DRY RED is avoided.
CONNECTIONS
Separating yourself from a community where you can share knowledge, personal experience, and advice can help you make big decisions. I have been a member of the PurseForum since 2012 and find the platform so incredibly valuable. Whether you're looking for a model of your bag, researching a future purchase, or looking for a trusted repair person, they always have great answers. Also about this repair person; When you find them, hold them and never let go of them. Okay, maybe that's a bit much, but if you find someone you can trust to work on your precious pieces, you have the freedom to carry your bags more freely.
Don't underestimate the power of your sales rep, they can really make a difference when it comes to your brand experience. Aside from just helping you get the latest bags or driving sales, they often go far beyond that for their loyal customers. This may mean speeding up your repairs or getting advice from your artisans, and paying personal attention to dealing with your other aftercare needs.
Finally, when shopping, you should bring a friend with you without prejudice. I like to shop with people outside of the wallet community because they help to offer a perspective outside of my own. For example: Do I really like this bag or do I only know that it is a deal for the brand? External sources are usually less sensitive to brand names or, for example, the seasonal publication of the article. You can therefore remember to stay on the right track and ensure that you are buying what you really intended.
REFINING YOUR COLLECTION
Learning to refine your collection is one of the most exciting and frustrating aspects of collecting. There were bags that I adored and that simply didn't meet my needs, which frustrated me. There were also some purchases that I thought were good business, but which never saw the light of day. I have found that I can avoid these feelings by not doing anything about market and resale value. I have found that spending more on something that I know I will wear despite its perceived value is becoming more and more satisfying.
Also learn from handbags ghosts of the past. If you have determined that a particular silhouette was not suitable for your lifestyle in the past, you should not buy it again. That sounds obvious, but I can't count the number of times I made this mistake myself. Nevertheless, don't forget to break some rules, take risks and have fun with them. Some of my favorite bags are bags that I bought despite their unknown resale value.
If you want a safer bet, vintage is always a good idea. Most bags in my collection are vintage bags (over 20 years old) and I generally find the quality better. However, the real plus of vintage is that many of the pieces are unique, making them less likely to burn out anywhere. Fashion is also cyclical and there is a good chance that the value of the bag will skyrocket when it has its moment again.
Because of this latest pandemic and our current economic climate, it will be a long time before I buy another first-class designer bag. I hope this advice is something you will all find valuable for future purchases or if you are lucky enough to be able to make a purchase. Now, more than ever, I'm addressing my communities for inspiration and companionship, and I invite you to share your thoughts, anecdotes, and opinions about the future of collecting in the comments. Stay safe!